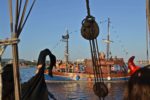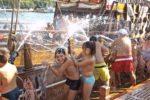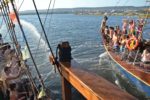 Especially for the children – pirate party on the ship in Varna
Available from 01. May till 30. September
Days: Thursdays;
Find the chest with the golden treasure! Meet the dreaded sailors! Welcome on board!
Pirates Party Program:
A little story split into two for Bushin-/Rueckfahrt (Max and the pirates);
Greetings on the ship (do not forget the sun-protecting screen and hat for children);
Initiation on the ship for children at the beginning;
Make-up for children;
Selecting pirates names
2x water battle in two parts (15 minutes each) In the 1st part, the ships move away from each other and come back again for the 2nd part;
Arm wrestling & knotting & throwing ball in a bucket
Еat and drink;
Treasure hunt;
Deprive parents;
Letter in a Bottle;
Group photo;
Pirates diploma.
Included services:
Air-conditioned coach;
Animation;
Food and drinks.
Quartermaster, navigator, boatswain, pilot and gunners! All on the spot! Anchor anchor! Flag hoist! Let's go!
---